Simple Cover Letter Guide
Write a basic cover letter quickly and easily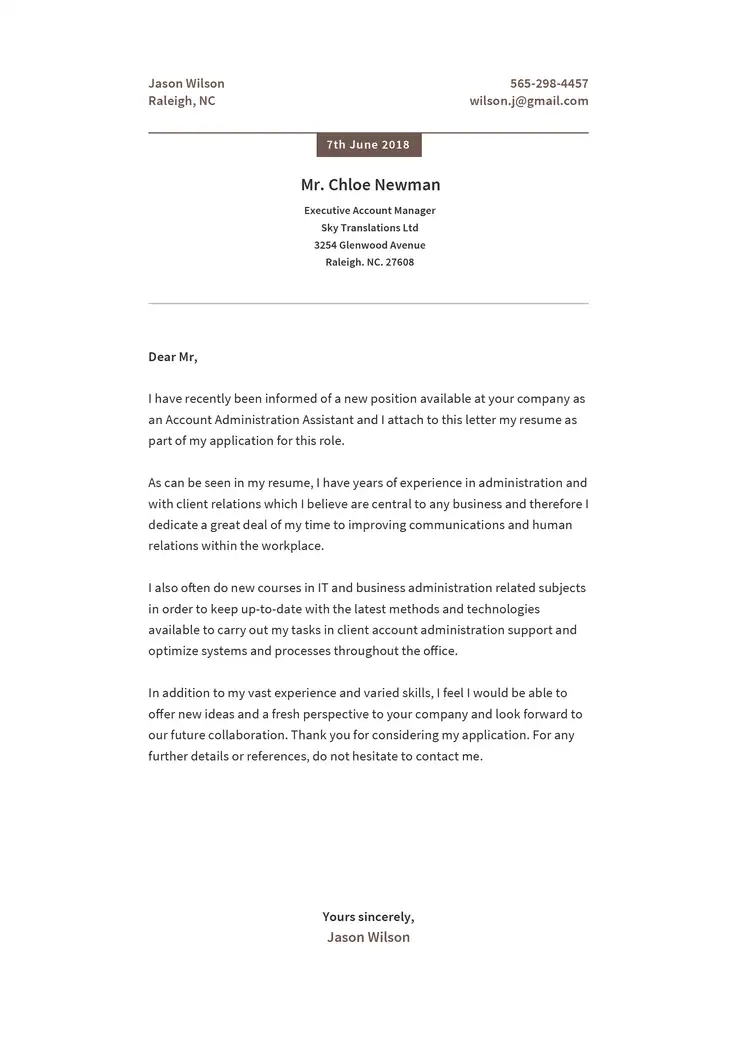 A well put together cover letter is perhaps just as important as impressing a recruiter with a good resume. For most jobs, you can get the most from your application with a simple cover letter that quickly describes some of the most important information about you and explains what has motivated you to apply.
When it comes to creating a simple cover letter for a job application it's better to focus on laying out information quickly and concisely. While you should definitely get a few key details on paper that will get a recruiter to sit up and take notice, these don't need to overload the document. After all, the finer details can be explored more in interviews.
So, what does it take to create a great basic cover letter to get you interviews? One option is to consider using an online cover letter builder. Tools like this can greatly speed up the process of writing and designing a great looking covering document. However, what do you need to include in the main text? Let's take a look at that in detail in our guide to writing a simple cover letter.
How to Write a Simple Cover Letter Job Application
The language and keywords you use on the page will depend greatly on the industry you're targeting. For instance, if you want to work in marketing, then be sure to talk about the leads, click-through-rate or revenues you helped to increase. Alternatively, if you're working as an accountant you'll talk more about the budgets you managed and the savings you made. Whichever sector you're aiming to succeed in you need to tailor your text carefully to show you're the real deal.
On the other hand, there are a few standard rules you should always follow when you're writing a basic cover letter. Whilst a basic template lacks some of the details you'll see on an academic letter or a creative cover letter, there are a few guidelines you must always follow to get the right tone on a simple cover letter:
Write in a formal tone avoiding contractions and slang
Use simple direct language
Try to avoid writing too much in the first person, just where necessary
Write in full sentences and in paragraphs
Optional: You can also add some quick details in bullet-point form
Of course, once you've finished drafting your letter, remember to fully proofread the whole text before you submit it to the prospective employer. Spelling mistakes and any grammatical errors are all too easy to miss when you're writing and these are going to kill your chances of getting interviews if they're spotted by an eagle-eyed recruiter.
Basic Cover Letter Format
A cover letter is a registration of your interest in a role and a quick introduction of you as a viable candidate, a simple cover letter format needs to always reflect that. Therefore you need to balance the space on the page between a quick career summary and why they should hire you. After all, it's an advert for you firstly and foremostly.
When you write your basic cover letter, try and explain these key points:
Who you are and how you can be contacted for the follow-up steps
What has motivated you to apply for this specific job at this specific company
Why you would be a good fit for the role and the organization
Your flexibility to take part in interviews
How to Structure a Simple Cover Letter
When structuring a simple cover letter you should follow a standard letter format. That means you need to place your address and contact information at the top of the page and then structure the rest of the document in short (2-3 sentence) paragraphs.
Section
Information to include
Contact Information

Your full name
Address
Phone number
The date
A professional email address

Formal greeting

The hiring manager's name – this might take a little research

Introduction

Who you are
Where you discovered the job advert
A few of your skills and why they make you suited for the role

Main body

What you know about the company
What attracted you to the role
What you'll bring to the company

Conclusion

Any attachments you've included with the letter (such as a resume or references)
A formal sign-off expression like "Yours sincerely" or "Regards"
Your full name
As far as length goes, you should always try and keep a simple cover letter limited to just a single letter page. A cover letter is just a quick summary and introduction of you and your skills. If it's too detailed and spread over several pages, it's going to be thrown out by recruiters who are pressed for time and have to read hundreds of applications daily.
Pros and Cons of the Basic Cover Letter
A basic cover letter has lots of advantages. It is probably the most widely used style of introductory letter used by job seekers and can also be used in the broadest range of sectors.
However, whilst basic format letters probably enjoy more success than any other type of cover letter around, it's also a fairly generic format. This gives it a slight disadvantage over other formats as it may not set you apart from other candidates and give you that edge you need in the employment process. That's why choosing the best career highlights and achievements is so important.
Pros of a Basic Cover Letter
Easy to read
Concise
Great for entry and mid-level jobs
Can be used across a variety of industries
Cons of a Basic Cover Letter
Simple Cover Letter Template
In most simple cover letter examples, you'll see a balance of simplicity and detail. When starting a basic cover letter, the most important information comes first. Namely, your contact information, a quick and polite greeting, and a short paragraph detailing the position you're aiming for and some quick reasons why you're qualified.
Connie D Barnes
339 Masonic Drive
Bridger, MT, 59014
406-662-1393
connie.barnes@yahoo.com
January 14th 20XX
Dear Adrian,
I am writing to apply for the Customs Broker position at Edentech as posted on LinkedIn.com. I am a fully qualified and licensed broker, with over 5 years of experience and an excellent track record of managing autos and auto part imports.
As you can see in our simple cover letter sample, the jobseeker summarizes how they heard about the available position and quickly lays out a bit of basic information about themselves right away. This is all done in just a short paragraph but it tells the hiring manager a lot from the very beginning. Once you've established your credentials for the job, it's time to get (just a little) more in depth.
I was particularly interested in the position with Edentech, as I share in the company values of growth and innovation. Working with Ryeland, my current organization, I've overseen a 10% cut in waste, as well as ensuring the highest standards of compliance with the CBP.
Furthermore, I've developed a reputation as an outstanding problem solver. This has been an especially vital asset in my current role, especially with regards to resolving any issues arising with regards to shipping and clearance.
In this middle section, our imaginary job seeker has built on the information they've established at the beginning and used a couple of paragraphs to explain just what they did to bring value to their current position and to show they've done their research on the company. Now that the applicant's credentials have been fully established in context, it's time to start moving towards a conclusion and (hopefully) getting an interview.
I am highly motivated to continue this standard of excellence in a new role and would relish the opportunity to make that happen with Edentech. Please find enclosed my resume, which will provide a little more detail on my skills and experience as well as all my contact information.
Please feel free to contact me at your leisure via my personal number or email address. I look forward to speaking more with you regarding the position.
Sincerely,
Connie Barnes
In a final flourish, our jobseeker has reiterated why she's interested in working with the company and started to move the conversation towards the next steps of the process. From there the last addition is simply a formal sign off statement such as "sincerely" or "yours truly" and your name and perhaps a signature if you're mailing the application.
Knowing how to write an effective simple cover letter is a skill with life-long benefits. Don't forget, you can speed up the writing process and improve the layout of your letter of application with an online cover letter builder. Getting the covering letter right is an easy way to get more interviews, so be sure to make sure you target the prospective companies correctly.