Academic Cover Letter
Get your next academic position easily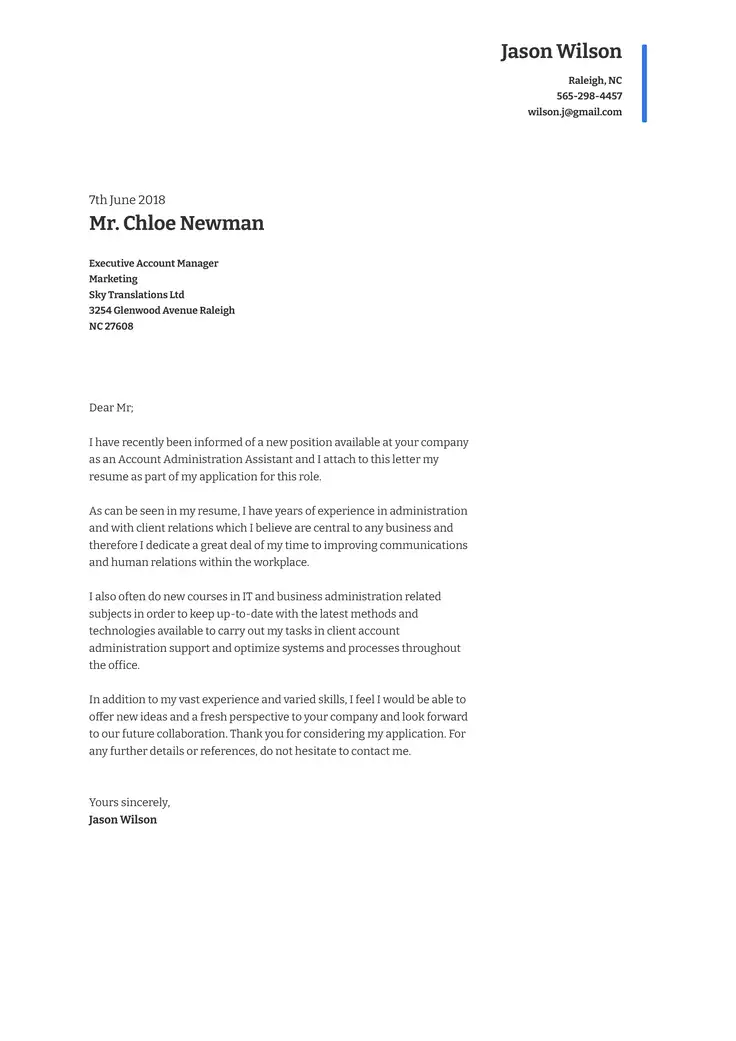 A life of academia is one of maintaining the highest standards of teaching and producing scintillating research findings. That's why an academic cover letter for a job needs to be a carefully planned and well-targeted document.
Academia is a broad field and when it comes to professional documents like a letter of introduction in your job search many of the same rules apply across all faculty disciplines. Unlike targeting a job with a regular cover letter template, applying for university or college positions requires a little more detail and a few considerations that only apply to the academic field.
While it's true that writing a cover letter isn't everyone's favorite part of the job-seeking process, it can be made much easier with an online cover letter builder. These tools can speed up the process of writing your accompanying letter by quickly laying out the most important sections and adding a little design flair that will show that you've gone the extra mile.
So what does it take to write a cover letter that will get you interviews for your next faculty position? As we'll see in the following sections it takes a mix of those academic skills you've honed over the years, along with a touch of salesmanship.
How to Write an Academic Cover Letter for A Job
Your academic accolades, your ability to meet deadlines, being a great educator and excellent writing skills. These are just a few of the things that are going to be accessed on your academic job cover letter.
Of course, this being an academic position you're targeting, you should adopt a similar tone to your previous writing in your field of study. It should be formal in tone, descriptive and follow the usual styling rules, such as not using contractions and making use of precise words related to your discipline.
Don't forget to follow an academic writing style. That means:
No contractions
A formal tone
Specific vocabulary related to your field
No slang
Writing in paragraphs, not bullet points
As an academic, you need to show that you're experienced as well as knowledgable in whatever the role will require. For example, there's no use in applying for a role as an Assistant Professor in Statistics if you don't reference your achievements in the study mathematics or use the right lexicon.
How to Format An Academic Cover Letter
Broadly speaking, an academic cover letter follows many of the same formatting rules as a professional or simple cover letter. Where an academic cover letter template could differ, however, is the inclusion of the full name and address of the hiring manager or faculty lead. Don't forget to properly include the correct professional titles (such as Dr. or Professor) for whoever you're reaching out to.
It should also go without saying that you should check your spellings and fully proofread your letter before you apply for a job. In the academic sector especially, any mistakes will simply lead to your cover letter and resume getting thrown in the trash.
Who Should You Target in An Academic Cover Letter
In the case of a cover letter for an academic job application, you are first and foremostly targeting a hiring professor at the institution you want to work at. Whilst this person is your ultimate audience, also, remember in many cases an HR person will probably be checking your credentials first, so bear them in mind too.
Overall you should use the job advert as a crib sheet, so you can correctly target the skills and credentials needed in your own letter of motivation. Answer the questions they will want to know from you before they progress further with your application process. This will give you a far greater chance of success.
Don't forget to also do a little research on the hiring professor for the role you're looking to get. Finding out their areas of focus and correctly appealing to the sort of skills and goals they like will give you a big advantage!
What to Include In an Academic Cover Letter
If you want your cover letter to really stand out you should always be ready to show examples of your work as well as enthusiasm for the position. Fitting your cover letter to the institution you want to work at is also another way to get an edge on the competition.
After all, universities are establishments with a strong sense of tradition and ethos. To be a good fit for the role you should show that you embody those characteristics that fit into their academic identity.
An academic cover letter needs more details pinpointed than most other types of cover letter. Be sure you also mention the dates of completion for any research you're undertaking at the time of writing and mention the names of any supervising professors.
The essential parts of any academic cover letter are:
Your address and contact information
The hiring professor's full name, title, and professional address
Examples of your research
An explanation of your teaching methodology
Date of completion for any current doctorates or theses
The full name and title of your supervising professors
Your reasons for applying
Any ideas for further research that may interest the recruiter
The elements above are absolutely critical considerations that should always be included in a cover letter. These will answer all the questions that the hiring manager will want to know from the beginning. Weaving these together into an effective story of your academic past present and future will be what gets you called in for interviews.
How Long Should an Academic Cover Letter Be?
Normally a generic cover letter won't go beyond a single page. This is also the case for some academic cover letters although not all. In almost all STEM subjects for example, where your experience can be summarized quicker, one page is usually enough.
However, with an academic cover letter for those targeting faculty positions in humanities, things are a little bit different and you should be more descriptive. Therefore, 2 pages are usually recommended. This will give you plenty of room to flesh out your personal description and the relevant research that the hiring manager will want to see.
Remember though, if you write an academic cover letter that extends beyond 2 pages you run the risk of alienating the reader. After all, a cover letter for an academic opening still needs to adhere to the rules of motivation letters in general. Namely, it should be concise enough to digest quickly.
Academic Cover Letter Sample
When it comes to writing the cover letter for an academic role you need to create a detailed, yet concise and compelling outline to your career so far as well as where you see it going.
To start things off you should use the intro section to detail your address, the academic address of the professor and explain a little about what drew you initially to the role. As can see in our simplified academic cover letter example:
John Dugard
500 E Yates Street
Ithica, NY 14853
October 17th, 20XX
Dr. Susan Hughes
Department Of Physics and Astronomy
University Of Southern California
825 Bloom Walk
ACB 439
Los Angeles, CA 90089-0484
Dear Dr. Hughes,
I am writing to apply to Assistant Professor of Astrophysics faculty position as advertised on your department website that is due to begin in Fall 20XX. I am currently completing a doctorate at Cornell University and expect to have completed my Ph.D. thesis requirements by May 20XX. I was drawn to the position available at the University of Southern California, as I am highly eager to contribute to the improvement and expansion of the Department of Physics and Astronomy, further my research on Supermassive Black Holes and provide exemplary instruction on astrophysics.
Once you've made a strong introduction and properly explained why the job hooked you, it's time to start telling the hiring manager why you're the right person for the role. This means giving them some information about your academic training and how you plan to expand on it. As you can see in the next section of our example:
I have dedicated the last 5 years of my academic experience at Cornell University to analyzing the visibility of supermassive black hole accretion. My doctoral dissertation was completed in consultation with Prof. Edward Jones and examined the visibility of supermassive black holes and how AGN spectrum energy spikes influence the rate of accretion. This research was conducted using a relatively new methodology in which we used Keplar satellite observations to measure the spectroscopic projections from the accretion disc. I would be very enthusiastic in sharing and expanding on this methodology to further the goals and research of the department in at USC.
In addition to my work in supermassive black hole accretion, one of the other areas that interest me greatly for future research is the analysis of the gamma radiation produced by quasars and how this can lead to the discovery of new supermassive black holes. I also spent many months of my post-graduate study offering tuition to the physics department student body and led a course on the black hole dissipation during the final year of my Ph.D. I would, of course, relish the opportunity to continue with this work in the USC faculty.
Once you've provided a little more evidence for why the recruiter should hire you, or at the very least call you in for an interview, it's time to start moving the conversation towards the next steps in the process.
The details you should include to conclude your covering letter for academic positions should feature:
Introduce the next steps (speaking to the search committee)
When you can make time for interviews in your schedule
An offer of thanks for their time
A polite and formal signoff. Either – Your's Sincerely or Kind regards
You can see all these come into play as we round off our example cover letter:
I would enjoy exploring the possibilities of this further study and the position in the coming weeks. For the moment, please find enclosed my curriculum vitae, which includes further details of my teaching experience and research direction and also a letter of recommendation from Professor Jones. I will gladly provide any further supporting materials upon request and am available to speak more on my home number 607-255-5368 from 6 pm daily. I would like to take this opportunity to thank you for your consideration and look forward to hearing from you soon.
Yours Sincerely
John Dugard
As you can see, it's not rocket science to write a great academic cover letter. If you follow these tips and structure your cover letter carefully you'll experience much more success with getting callbacks and interviews. To make your letter of intent for an academic position really stand out, remember that using cover letter builder is a great way to save time and see the exact styles that will make your document more eye-catching.