Entry Level Cover Letter Guide
Learn how to write an effective entry level cover letter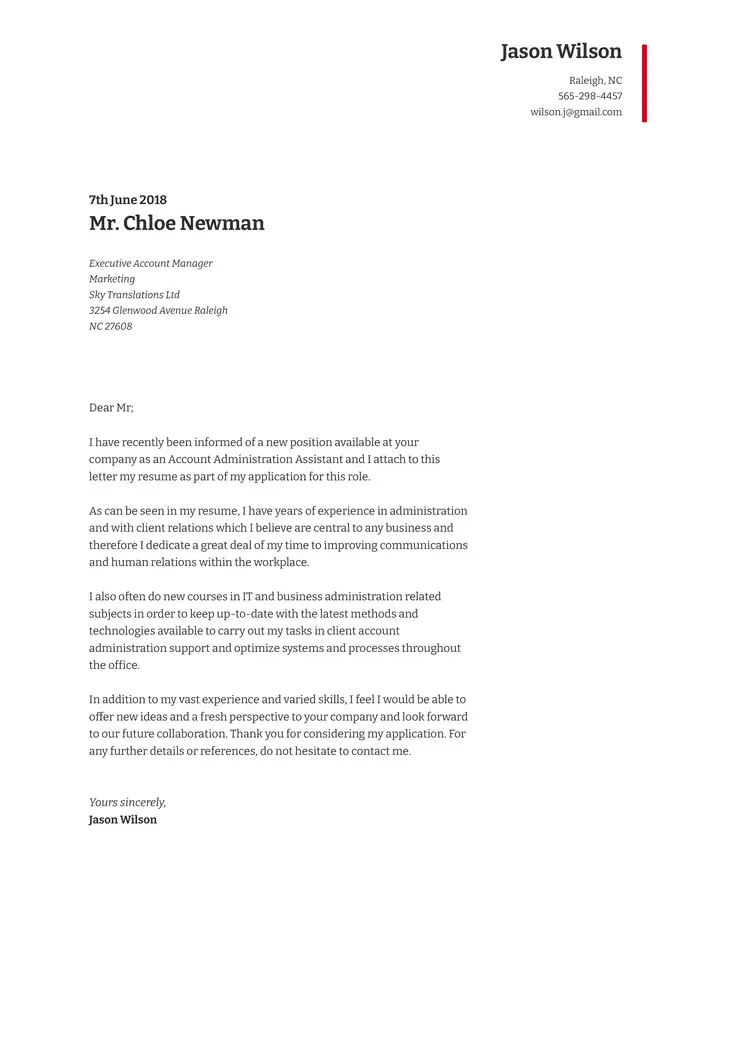 Writing a cover letter for your very first job can seem like a daunting challenge. Entry level cover letters still need to be an effective advert for you as a candidate, although with the handicap of little-to-no hands-on professional experience to refer to.
We all have to start somewhere in our career, however. Even if you have no real-world experience that doesn't mean that a cover letter will be lacking in relevant highlights that will get a hiring manager's notice.
If you've never written an application letter before, a cover letter builder can make the task a lot less arduous. Tools like this will help you quickly lay out your letter template and choose the right style for the correct stage of your career. Let's now find out exactly what a recruiter will want to see in a cover letter for entry-level jobs.
Tips for Writing an Entry Level Cover Letter
First, things first. Don't worry too much that you don't have much or any work experience in the sector you're aiming for. What you lack in work experience can easily be made up for with real-world experience. You'd be surprised just how much of a difference this can make in your job searching process.
Highlight Examples from Your Daily Life
The university of life may be a cliché but in the case of entry-level positions, it has a lot more relevance. There might be numerous things in your day-to-day life that have given you valuable skills in leadership, management, and decision-making such as sports team membership, volunteering positions or even just helping out at your local scout troop.
You might even find yourself with too many highlights to fit them all in your letter. The trick is to be selective with the exact transferable skills you pick out. Always make sure they are relevant to the job on offer and (if possible) the company values of the organization you're applying to.
Draw Attention to What You Learned at College or High School
Naturally, if you're fresh out of college or high school you're going to have plenty of information to relay about your studies. The most important message to convey just how your studies related to the role on offer.
For this, you should be as specific as possible. If you've just completed a degree in mathematics and you're applying for a position as an accountant, explain how your course has prepared you to spot errors in calculations and analyze data. You can mention your passing grade if you choose, and be sure to highlight any special distinctions you earned.
The same goes for if you're applying for a non-graduate job. If you're targeting a mechanic role, for instance, you should talk about what courses you took that prepared you to work with machinery. If you took auto-shop or mechanical technology class, then you'll have just what the employer is looking for. All you have to do is explain why your studies fit the position.
Entry Level Cover Letter Writing Style:
Just like any other type of cover letter, an entry level cover letter needs to be written formally. That means you need to avoid slang expressions and contractions. Obviously, don't forget to keep things polite by using conditional expressions like would, may and could.
Additionally, try not to overuse the first person. Too many "I"s don't look great on your covering letter. Remember, you're meant to be convincing them of what you can do for them not what they can do for you. Although, where it's unavoidable you can, of course, refer to yourself in the first person.
When you write your entry level cover letter, just follow these key rules:
Write in full sentences and short (1-2 sentence) paragraphs
Keep it formal – Don't use slang or contractions
Avoid using the pronoun "I" too much
Use industry relevant keywords
Once you've crafted your draft letter make sure to proofread everything at the end. Spelling mistakes are likely to torpedo your chances of getting the job. In some cases, these kinds of errors may see your application rejected before they've even hit a recruiters inbox, thanks to application tracking software (ATS) that can filter out any documents with typos.
Finally, try not to send out generic letters. Tailor each one to the employer and the job application in question. That means using as many relevant industry-focused terms and keywords as you can. The more in-depth professional knowledge you can demonstrate the better.
Structure for an Entry Level Cover Letter
Writing a formal letter can seem a little intimidating, especially if you've never written one before. There are lots of specific rules you need to follow and mistakes can seem all too easy to make. However, don't panic!
First of all, you can save a lot of effort by using a cover letter builder or template examples. These will help you negotiate any headaches with layouts and formatting your letter structure.
Whilst entry level cover letters won't focus as much on your professional achievements and experience as much as a basic cover letter would, there's still plenty of material you can include instead. For instance, unlike more generalized templates you're likely to spend more space highlighting scholastic achievements.
You should also indicate if your studies are still ongoing and when they are likely to conclude. If you've recently finished your college or high school education it's also a good idea to add a date of completion to your letter.
Luckily, that's where most of the differences end between an entry level cover letter and a more generic template. Like in most cover letters, you should spend most of the text explaining what drew you to the role and detail just what you can bring to the company.
Section
Information to include
Contact Information

Your full name
A contact address
Your phone number
A professional email address
The date

Recipient contact details

The hiring manager's full name and professional address – Look this up before you start writing

Formal greeting

Address the hiring manager by their first name only

Introduction

Who you are
Where you discovered the job advert
A few of your skills and why they make you suited for the role
Your qualifications
If you're still studying you should also include the date of which your course will finish

Main body

What you know about the company
What attracted you to the role
What you'll bring to the company

Conclusion

Any attachments you've included with the letter (such as a resume or references)
A formal sign-off expression like "Yours sincerely" or "Regards"
Your full name
Finally, the length of your document shouldn't extend beyond just one letter page (8.5" x 11"). At the beginning of your career, there's no reason to have a long covering letter. Going beyond one page is normally reserved only for people with very long careers, or those writing academic cover letters. Generally speaking, recruiters are flooded with applications daily and long, drawn-out cover letters are more likely to be thrown out.
Entry Level Cover Letter Sample
Once you've planned out all the valid skills and relevant experience you want to include in your cover letter it's time to start drafting out the actual document. When you target a specific job try and read the description one more time. That way you can carefully pick out the best details and most appropriate highlights.
First of all, however, you're going to need a good introduction to start off your letter. This is a chance to explain how you found out about the job and quickly state why you're a good fit. As you'll see in our sample entry level cover letter:
Dan Lauderdale
1588 Losh Lane
Oceanside, California, 92058
412-721-6679
May 24th 20XX
Christopher Bartley
Taylor Engineering
4784 Grey Fox Farm Road
Los Angeles, California, 29302
c.bartley@taylorengineering.com
415-243-8055
Dear Christopher,
I am writing to express my interest in the Structural Engineer position with Taylor Engineering advertised on Glassdoor.com. Having completed my B.S. in Engineering from Virginia Tech in May 20XX, I am very enthusiastic about starting my career with Taylor and feel I would be an excellent fit for the role.
For the middle section, you're going to be faced with a few more challenges. After all, this is the section where you're going to have to provide some evidence of your suitability for the job. Doing this is going to require a little tenacity.
You should choose the most suitable moments from your studies. This could be your time as a member of a society or team that will support your application. This is what we can see here in the entry level cover letter sample:
You stated in your advertisement that you are eager to find a candidate with excellent communication skills, attention to detail and who is a good team player. This is precisely what I would be able to bring to the position. During my time at Virginia Tech, I was an active member of the lacrosse team, where collaboration and close-interaction were invaluable skills for success.
Additionally, during my senior year, I interned with ANC Energy for 3 months, working within their maintenance and infrastructure team. This gave me hands-on experience of everyday engineering tasks as well as many more skills in spotting serious flaws in design and identifying worn parts and structures.
In the middle paragraphs, as we saw, our candidate paired their time in the lacrosse team with the soft skills that the company was searching for. This gets the momentum building. Then they bring real-world experience into play that further solidifies their strong base. Of course, on an entry-level document that's going to give them a big advantage.
Now that a little of the candidate's suitability has been established. It's finally time to start moving the conversation towards a job interview.
I'm sure you'll agree that my real-world experience, my extracurricular activities, and my Engineering B.S. would make me a great fit for the Structural Engineer role at Taylor.
Thank you very much for taking my application into consideration. I would be very happy to discuss the position in person in the coming weeks. Please feel free to contact me either on my phone number 412-721-6679 or my personal email dan_lauderdale@gmail.com. I look forward to hearing from you.
Sincerly,
Dan Lauderdale
And there we have it. Our imaginary candidate offers a quick reiteration of why they'd be a good hire for the company. From there, they quickly thank the hiring manager for reading the letter and offer an easy point of contact for the next steps.
With the right touches, even an entry level cover letter can grab interest like a professional cover letter with years of experience summarized on it. You can also get the best from your document by creating your own entry level cover letter easily with online cover letter templates. This will save you a lot of time that can be better spent on clicking apply!