Creative Cover Letter
Construct a memorable creative cover letter with expert advice and samples.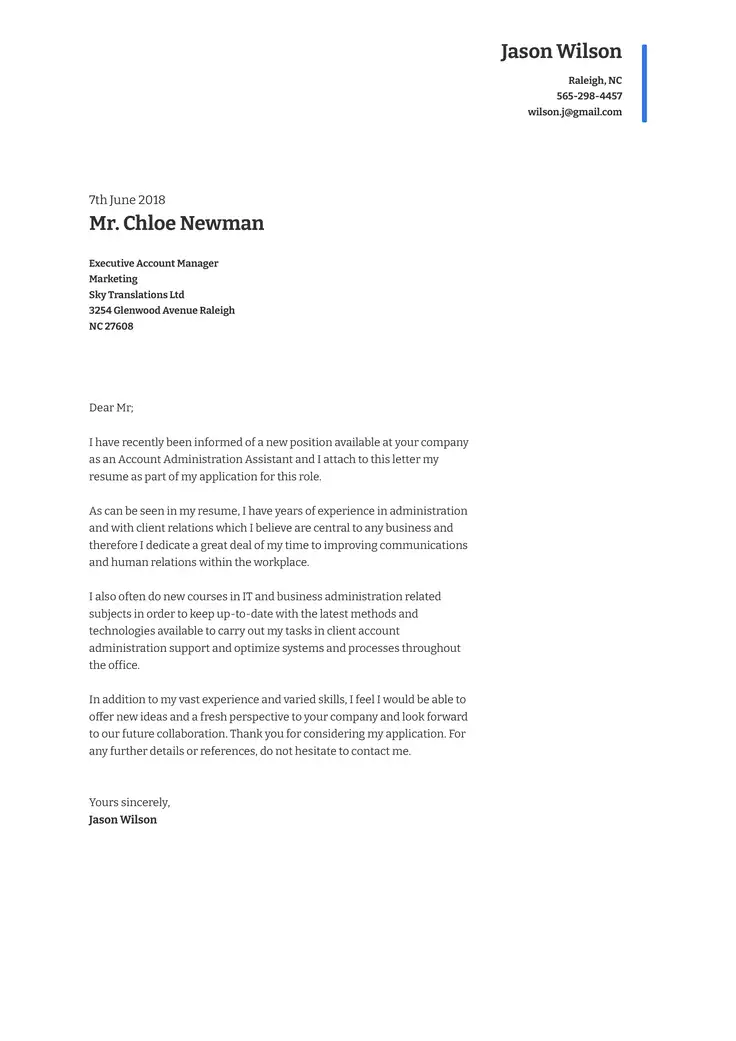 Cover letters are not everyone's favorite part of the job hunting process it's fair to say. They can sometimes come across as dry, formulaic documents. However, with a creative cover letter, you get a chance to break a lot of the normal rules and have a bit of fun with your application document.
You may find that in many creative industries like design, marketing, advertising, publishing you can gain an advantage with an inventive approach to your cover letter tone and layout. As these industries thrive on innovation and thinking outside the box your covering document won't only stand out, it could very well vouch for your ability to flourish in a creative position. Not to mention that a recruiter will surely appreciate an escape from the deluge of standard letters that all sound the same.
Getting an edge on the competition can also be greatly helped with a cover letter builder. Tools like this can save you the worry of making mistakes with your layout and can offer expert tips on creating a perfect cover letter.
So what does it take to write a creative cover letter that's going to wow a recruiter? Let's look at what should go into a more imaginative and unique type of cover letter.
How to Make a Creative Cover Letter
A cover letter for a creative job is often quite different than a basic cover letter or a professional cover letter. You can escape a little of the formality and dryness that you would normally expect when applying for a job. You can write more informally and enjoy more wordplay and slang than normal here.
However, try and hold back from getting too experimental with your ideas. A creative cover letter is still a cover letter and you shouldn't lose track of that. You should still try and aim for the goal of impressing the recruiter with your skills and suitability for the job.
If you're not sure which jobs may be more receptive to this style of writing, use the job advert as a guide. If it's written in creative style, then you should try to match that with your own document.
Furthermore, don't forget a few of the normal rules that apply in generic cover letters. First of all, remember to proof your work and spellcheck. Accidental misspellings are still a no-no. Also, while you can be allowed a few liberties with formalities, you should still keep things polite and respectful and (ideally) not too boastful. Coming across as too cheeky or rude will almost certainly see your application end up in the trash.
Ultimately, the most important thing is that your letter should be easily remembered. Standing out makes all the difference in the creative world, so this is what will give you an edge in your battle with the competition.
What is really going to sell you is your storytelling. It's not just about having the right skills on paper (although this is still very important), it's also how you sell them. Make sure that your career story comes across as compelling, purposeful, and where possible, exciting. Really try to dazzle the recruiter.
Creative Cover Letter Format
What you'll see in many creative cover letter examples is that they won't diverge far from a standard cover letter format. A creative cover letter still needs to look like a formal letter in design terms.
However, this cover letter style, compared to other cover letter types, offers you a lot more flexibility. Using bullet points, bold text highlights and other more eye-catching elements can all be used in this case. Really showing that you know how to hook a reader is a useful soft skill in itself for the many of the jobs you target with a creative cover letter.
When it comes to designing your cover letter template there a few different things you could do. One thing you should do is play around with the design so that it's good and eye-catching. Now that doesn't mean reinventing the wheel. A little use of color and design in your address section, or using a fancy (but readable) font for your header, could really grab a reader's attention from the beginning.
Alternatively, you might choose to make your cover letter design match with your resume design. This will give you a clear personal brand, that will make your whole application a lot more memorable, unified and, of course, professional looking. Showing that effort went into your application is a big plus for employers and demonstrates your enthusiasm for the position.
Section
Information to include
Contact Information

Your name
A contact address
Your phone and email address
Optional: Social media profile names for Twitter or Instagram

Introduction

Catch the employer's attention with a memorable opening line
Quickly relay why you're interested in the job and why they should choose you

Main body

Why working with the company appeals to you
How you would do the job well
What the company will get if they hire you

Conclusion

Your contact information
Availability to interview
A friendly but polite sign-off
A quick and easy-to-read letter should be your main goal. Like most accompanying letters you should keep the length to just one page. You could stretch to 2 pages in cases where you need more space to explain a longer career or you have an epic work example that just can't fit a single page. However, this is risky and is not recommended.
Creative Cover Letter Opening Sentence Examples
The first sentence of any cover letter is a crucially important one. This is doubly so in a creative cover letter. The first sentence is always a hook to draw in and engage a recruiter. Therefore, you need to start with something that will make the reader enthusiastic and compel them to keep reading.
This is not always as straightforward as it sounds. It can take a bit of trial and error. However, if you're looking for a little inspiration why not try one of these creative cover letter openings:
When I heard that (company) was looking for a (position) I just knew that I had to apply.
On reading your job advert for (position) at (company) I foresee great success in both of our futures.
Working in (your industry) has been a dream of mine since (age of inspiration) and I would be overjoyed to do that with (company).
Our destinies aligned when I first read your advert for (position) at (company).
The word opportunity is thrown around a lot these days, but when I heard (company) was hiring what else could I do but throw my hat in the ring?
As you can see in our examples, the best way to open a creative cover letter is to emphasize enthusiasm and motivation for getting the role. Now let's see how you can tie this all together with your work experience in a real creative cover letter example.
Creative Cover Letter Template
When you're combining all the many elements of your experience, enthusiasm, skills and a little about you as a person you need to be very selective. Choosing carefully what goes into your letter and what doesn't go in is a very important consideration. Always start by making a list of your passions, employable skills and a few notes from the job advert itself.
Once you've got a suitable selection of personal selling points, it's just a matter of weaving all the elements together with a little of your own personal flair. This is how this might look in a creative cover letter sample:
Anthony J Christensen
164 Deercove Drive
Dallas, Texas, 75209
214-956-7147
@ajcdigital
May 14th 20XX
David Bailey
Gong Digital Marketing
3551 Waldeck Street
Dallas, Texas, 75207
817-394-4994
david.b@gongdigital.com
Dear David,
Gong is hiring and I think I might just be the answer to your prayers. My name is Anthony Christensen and I'm a go-getting Digital Marketing Manager with more than 7 years experience in online marketing. Gong is an agency with a reputation for success and creative innovation. Together, I think we'd make the perfect team.
As you can see in our example candidate's case, they've started the letter with a very confident opening gambit. Once they've caught the attention of the reader, they then launch in with a quick personal summary that will give the recruiter an idea of their experience and professional level. They then find a chance to explain why they are eager to apply for the job.
Life as a digital creative is my calling and in the last 7 years, it's been my honor to be able to call myself a professional in this field. I eat, sleep and even dream of creating beautiful and effective marketing assets that not only look good but sell too. In fact, in the last six months, the digital assets created in partnership with my team have smashed their targets by over 15%.
Communication and coordination are two of my biggest guiding forces and I know that Gong also appreciates these skills. I've been following the company's blog for a couple of years now and I've always been impressed with how you fit this ethos into everything you do. I was also totally blown away by your Drum Digital Advertising Award-winning video campaign. Hopefully, we'll be able to work together to see that you retain the title next year.
In the middle sections, we can see that our candidate is building on what they've done in the sector. They then up the ante by explaining exactly why their skills fit with the company's goals, including a couple of real examples of their work for good measure.
Thank you for taking the time to consider my application. I am contactable by email every day or by phone after 6 pm Monday-to-Friday. I hope we can chat soon to discuss the opportunity and how we can work together to help Gong reach even greater heights.
Yours truly,
Anthony Christensen
The candidate finishes everything off with a quick thanks to the recruiter and sets out when they could meet or talk in the coming days or weeks. From there they reemphasize their interest in the mutual success of both candidate and company and end the letter. The ball is now very much in the court of the recruiter.
Overall, A creative cover letter doesn't need to be a work of conceptual art or the next great American novel. It just needs to to be short, sweet and compelling. Combining your mastery of words with a great design from a cover letter builder is a surefire way to get your application noticed.