Cover Letter Format
Get the best structure for a winning cover letter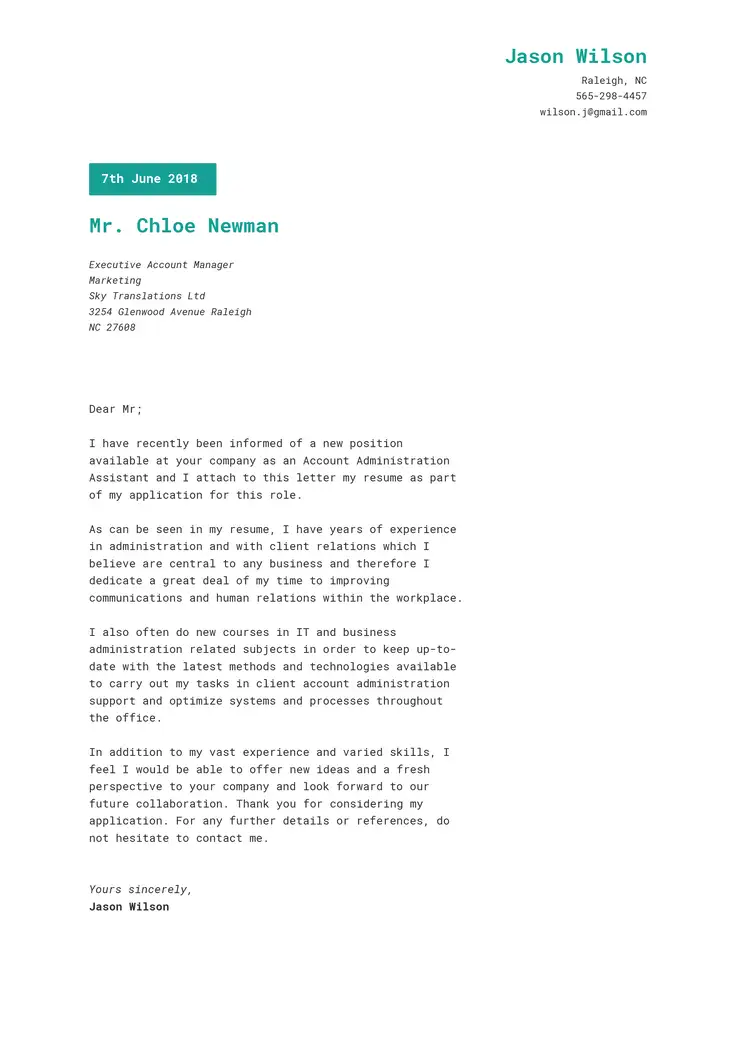 Often, in the world of job searching and resume writing, people are told how important it is to make a good first impression but what also often occurs is that jobseekers overlook the significance of a well-structured, easy-to-read and relevant cover letter as part of this first impression.
When you prepare for a job interview you spend time and energy deciding what to wear, how to style your hair and ensure to turn up on time. All these aspects contribute to your appearance and how you are first perceived by the potential employer. So it is absolutely necessary to dedicate that same amount of time and effort, if not more, to producing an effective, well-formatted cover letter and resume.
A simple cover letter can convince a hiring manager to put your application into the shortlist even if your resume doesn't entirely fit their needs if you know how to market your transferable skills and achievements that relate to the vacancy.
This is why it is crucial for all candidates, whether looking for a first job or taking the next step up the career ladder, to learn how to write a cover letter and tailor it for every job application.
Find the best cover letter layout tips in our guide to formatting a cover letter for your next job application.
Cover Letter Opening
Just as there are different formats for resumes such as the chronological, functional and combination resumes, there is a certain style guide that should be considered when writing a good cover letter.
When you have done your planning, you have the ideas you wish to include in your cover letter and it's time to get down to putting pen to paper, questions start to arise that you may not have been expecting.
Questions such as:
'How do I address a cover letter if I don't know the name of the hiring manager?'
And 'Is it suitable to address a cover letter on a first-name-basis?
Or 'Do I have to write my full address?'
And even 'How do you format a cover letter via email?'
To answer these and other doubts about cover letters, take a look at these tips for writing a cover letter opening:
The beginning of a cover letter should include a header with the candidate's full name and contact details. This can be more creative or use a standard format depending on the type of character that you wish to portray but be mindful of what kind of position and company you're applying to as some cover letter headers may seem unsuitable.
The contact details should include the applicant's telephone and email address but it is not a requirement to put a full physical address.
You should date the letter and remember always to change this when adapting your cover letter for new vacancies.
Below this information, candidates should then list the name and title of the recipient, in this case the hiring manager, as well as the company address.
For email cover letters, there is no need to add a header or to include the address of the company. You should however, include your personal contact details in your professional signature in email cover letters.
Cover Letter with no name
Obviously when we say no name, we do not mean not to include your name! But there are occasions when the job description or vacancy listing does not indicate a name to whom you should address your application. In instances like these when you don't have the name of the hiring manager, there are several possibilities when it comes to writing the opening of a cover letter:
Candidates are advised and urged to do a little research, use their initiative and try to find the name of the person in charge of filling the new vacancy by visiting the company website and social media sites.
If this search is not fruitful, jobseekers can address a cover letter to a general department in the company such as Dear Customer Service Hiring Manager.
It is not generally recommended for job applicants to address a cover letter with salutations such as Dear Sir/Madam or To whom it may concern as may have been appropriate in the past.
If a job description only refers to the hiring manager by their first name, it is entirely appropriate to contact this person by their first name. However it is always advisable to keep in mind the company culture and category of industry and position you're applying to, to ensure you do not send a cover letter that is either too formal or too casual.
Cover Letter Closing
Putting a good finale to your cover letter is crucial in order to leave the audience wanting to know more and planning on contacting you. The following is some expert advice on how to end a cover letter that will peek the interests of a hiring manager:
In the last paragraph of a cover letter, jobseekers need to give their story a conclusion by wrapping up everything they have stated either by reiterating their interest for the position or suitability.
It is also ideal for candidates to state what other materials are enclosed in the job application such as a winning resume, references (if requested), list of publications (in scientific or academic resumes), etc.
Finally the candidate should invite the prospective employer to contact them and indicate their plans to follow up the application in the future.
Ways to sign off a cover letter:
Sincerely is the most common of ways to close a cover letter.
Kind regards or simply Regards are also commonly used.
Respectfully is not as common but highly regarded in formal letters.
Also you can sign off with a thank you phrase e.g. Thank you for your consideration.
TOP TIP: A trick that not many candidates use in a professional cover letter but that could change your luck is the P.S.. Adding a short but catchy P.S. statement gives you just the right amount of space to include a new, relevant fact about your professional profile that can hook the hiring manager.
Remember: throughout a cover letter, just as with the keywords in an efficient resume, jobseekers should include cover letter buzzwords taken from the job description, company website and in the form of a call to action at the closing of the letter.
Cover Letter Format Advice
Now for the more technical part of cover letter formatting and some general considerations for jobseekers creating a first cover letter or improving an existing one.
Ensure to use an A4 sheet and do not exceed this length.
Maintain left alignment throughout except in the case of headers or personal contact information, which can either be centralized or in a right-hand column.
The cover letter spacing should be Simple or 1,5 at most. There is little space on just one A4 sheet to create a cover letter that includes everything you want to say to a hiring manager to convince them to take a closer look at your candidacy so although the wording is limited to 300 words maximum, it is advisable not to space out the text too much.
Cover letter font should never be a 'fun' font. All applicants should use a professional font on their cover letter such as Arial, Calibri or Times New Roman. The size of the font should be no smaller than 11 as it can become illegible but should also not be so big as to look unprofessional.
All cover letter margins should be approximately 1"-1.5" and neither larger, nor smaller.
In all documents candidates should include the cover letter date and remember always to update it when making changes or sending a new job application. In email cover letters it is not necessary to include the date.
One of the best cover letter key points to consider is to write a professional cover letter with keywords and expressions taken from the job description or company website, similarly to a professional resume.
The reason that cover letter keywords are so important is that more and more companies are using Applicant Tracking Software (ATS) to filter job applications before they even make their way to the hiring manager's desk. These systems are put into place to facilitate the work of human resources and to weed out the weaker candidates, thus it is vital to include the relevant vocabulary to attract the prospective employer and "pass the test" of ATS.
In the main sections of a professional cover letter, similar to a resume work experience section, you can use lists or enumerate achievements. The act of including facts and figures in a cover letter is seldom used by jobseekers but is a sure-fire way to attract attention from the potential employer.
Cover letter bullet points can even be used to give a structure to elements that are significant to the candidacy. This allows you to add more key points that you might otherwise not be able to detail.
In some cover letter formats, candidates choose to include a cover letter table where they introduce the requirements or needs of the business/position in question and in a corresponding column indicate how they as applicants fulfil these needs, using examples of previous accomplishments, experience and training.
Jobseekers can use this formatting advice to create an effective cover letter from scratch but there are also cover letter templates which allow applicants to use as a base to get started that they can then personalize with the appropriate information.
Additionally, as well as using an online cover letter generator there is the possibility of viewing cover letter examples to get ideas and inspiration for your own unique cover letter tailored to each job.