Cover Letter Templates
Catch the Hiring Manager's Attention with a Winning Cover Letter Design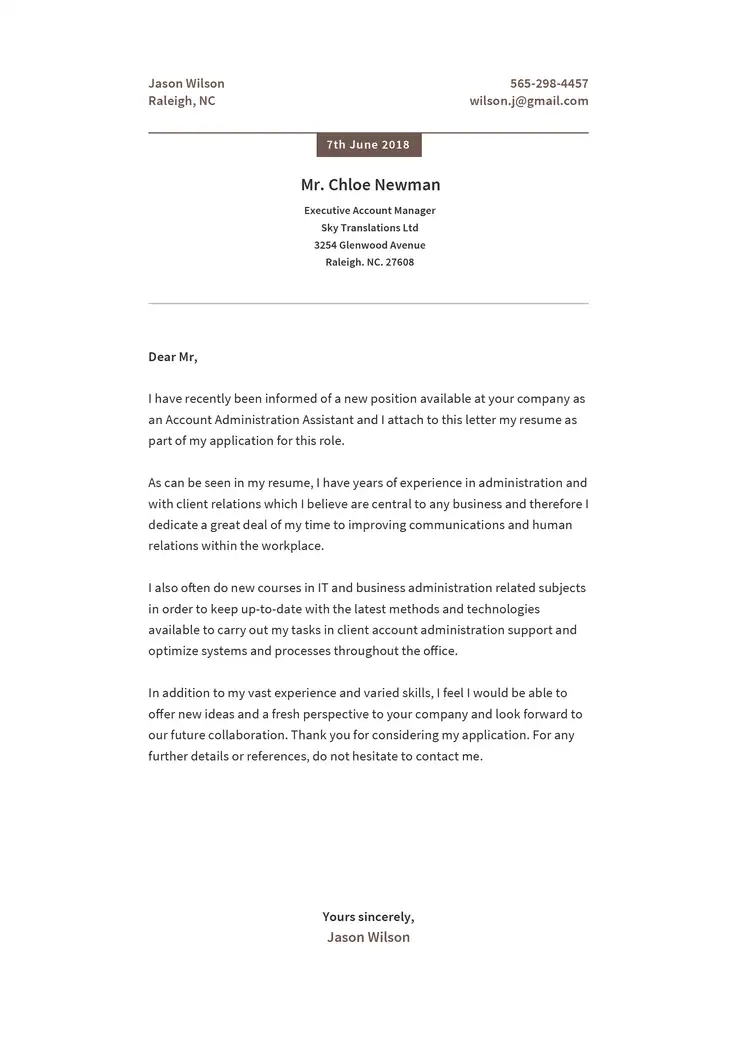 Creating a cover letter from scratch can have negative effects on your job application if you miss off crucial information or neglect the equally important cover letter layout. The best way to avoid making critical mistakes with your introductory letter is to use a cover letter template that can serve as an expert guide to what to include in each part and our cover letter format guide.
Cover Letter templates give jobseekers an idea of how to structure a cover letter for their needs. There are several types of cover letter templates, depending on the type of jobseeker and their requirements. Candidates can choose from a range of templates that include traditional types, creative designs, distinct colors, formatting, etc.
Employing a cover letter creator allows applicants to weigh up the pros and cons of different styles of distinct designs so they can get the best cover letter template for their job application, to accompany their resume.
Cover Letter Template for a Resume
Using a cover letter template to accompany your resume in a job application is the best way to ensure that your candidacy will be noticed. A resume on its own does not have the same effect on a recruiter as a well-prepared job application including a professional resume and cover letter.
Often cover letter templates come hand in hand with resume templates that follow the same structure and design, allowing candidates to produce a combined cover letter and resume pack to offer a prospective employer in order to give them a well-rounded impression of the individual, complete with their employment history, academic achievements, key skills and a clear and concise explanation of why this candidate fits the profile the company is seeking.
Candidates can greatly benefit by using a cover letter template for a resume that can be easily completed with the relevant information according to the needs of the company and the abilities the jobseeker has to offer.
Any cover letter templates for resumes help to build on the already well-established profile to allow a prospective employer to better understand the personality of the candidate and the attitude they would bring to the vacancy.
Cover Letter Templates
Give the hiring manager a glimpse into your whole profile by using a cover letter template to expand on the pertinent information shown in your resume about your professional career and add a customized description of the reasons those facts make you the most qualified and appropriate candidate for the vacancy.
Cover letter templates serve jobseekers as a guide, displaying the suitable organization of a cover letter including a heading, salutation, main body, conclusion and sign off.
There are various kinds of cover letter templates available for different purposes, including:
Application letters
Prospecting letters
Networking letters
Application Letter
An application letter is designed to respond to an open vacancy that a jobseeker has seen. The letter often mentions the job offer in the opening paragraph although this is not completely necessary.
This is the most common type of cover letter because the applicant is aware that there is an open position at the company they're applying to. This means that there is a person specification or job description that allows the candidate to demonstrate exactly the experience and skills they possess which fit the needs of the business.
Prospecting Letter
A prospecting letter is one that is sent to a company with the aim of introducing the candidate to the hiring manager or department manager in the hope that they will prove a worthy asset to the company in some capacity or another. An applicant could be applying for a specific role that they have in mind but is not actually on offer as a vacancy or simply showing interest in working for the company in a certain department.
Networking Letter
A networking letter is a way of contacting with people within certain companies or industries who may be able to offer advice as to how to find a job in the same field. This is a method of demonstrating your capabilities and getting your name out there so that when positions become available, hiring managers already have your resume and application available.
Best Cover Letter Template
The ideal cover letter template for each candidate depends entirely on their individual situation. Each jobseeker will most likely need more than one cover letter when it comes to sending off job applications, as they will also need several versions of their resume in order to speak directly to each hiring manager.
There are various types of jobseekers such as professionals or executives who have a long career trajectory, generally in the same industry or position, students looking for part-time or seasonal work, candidates who wish to change their career path and entry-level candidates, often recently graduated, who are looking for a first or main full-time job. Each jobseeker needs to take into consideration their own circumstances and especially their own professional profile when deciding which is the best cover letter template to use.
Another factor that should be taken into account is the sector in which the candidate is looking for work. The industry is an important aspect to reflect on because some cover letter templates may not be appropriate for all fields. You do not want to be sending a designer cover letter with eye-catching colors to an executive-level position in an accounting firm if their general company culture is sophisticated and serious. Whereas you could use more creative cover letter templates for an organization that has a more playful culture.
To get the best cover letter templates and start writing your winning job application today, try CoverLetterCoach's online cover letter builder that gives you step-by-step assistance to produce a cover letter that's guaranteed to catch the recruiter's eye.